Growing up in the 80 and early 90, I always heard something along the lines of "the definition of illiteracy has changed; it is now who does not know how to use a computer that is illiterate." This implied that the general definition of literacy before then was the ability to read and write and do some basic math.
The UNESCO defines literacy as the "ability to identify, understand, interpret, create, communicate and compute, using printed and written materials associated with varying contexts."
Within the scope of our course, I believe that the concept of "digital literacy" is very important. The International Society for Technology in Education (ISTE) takes this a step further by defining digital literacy to include ethical and social practices in different aspects of engaging with a society (work, shopping, voting, etc). (Canadian students are among the most wired across the globe) ISTE has defined six standards for digital literacy, including: "creativity and innovation; communication and collaboration; research and information fluency; critical thinking, problem-solving and decision making; digital citizenship; and technology operations and concepts."  These can be seen in the picture below.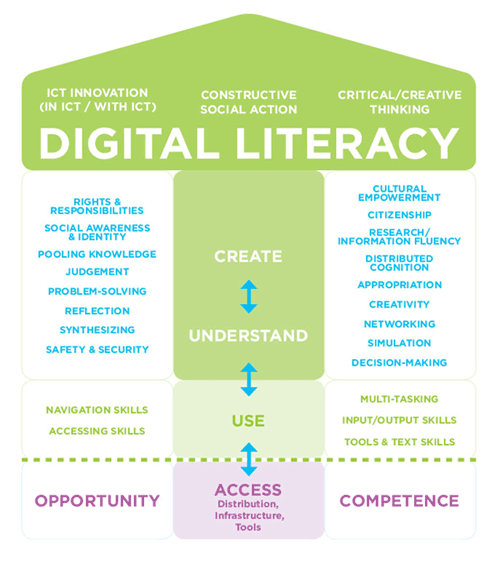 Digital literacy includes Technological and information literacy. On the one hand, technology literacy refers to a person's ability to understand and use technological tools relevant to different areas of life. It focuses on how to educate the use of technological tools, such as word processors, Internet browsers, messaging, email, presentation and graphic and video conferencing software are fundamental tools. Recently social media technology tools are added to the list as it is used more and more for many "engagements" with the society on a daily basis. It is believed now that today's kids are much more social online as opposed to kid nerds of the 1980 and 1990.
On the other hand, Information Literacy involves teaching people the skills to efficiently find, effectively understand, critically assess and accurately use information. This is not a simple skill to be acquired as the amount of data that humanity generates doubles at a very fast pace. This implies the ability to understand the benefits, limits and cost of the vast amount of informational resources available on the Internet. In fact, this is a fundamental tenet for independent life long learning. The government of BC defined a framework for information literacy that lays out expectations of ICT integration in the curriculum for different k-12 grades. For higher education, the American library association has defined the framework.
I was delighted to quickly skim through a survey of 4000 k-12 Canadian teachers , conducted by the Canadian Teachers' Federation that found that:
1- "Teachers feel that it is very important to teach digital literacy skills and are generally confident in their ability to do ss"
2- "The vast majority of teachers and students have and use networked devices in the classroom"
3. "Teachers would like more support and autonomy in using networked technologies in the classroom"
4. "The personal devices that students are least often permitted to bring to class are also the ones they are most likely to use when allowed"
5. "Teachers are using networked devices in their classrooms to deliver content to students and to empower their students to create content." The following infographic summarizes some teachers' experiences in networked technology in the classroom.
The UNESCO Institute for Lifelong Learning recently also identified other types of literacy (that could be the subject of a few other blogs), such as visual literacy, statistical literacy (which is very important as everybody is talking about Big Data), media literacy, ecological literacy and health literacy (which is a very hot topic these days). (I wrote this blog while most Canadians are home working due to the spread of the COVID-19 virus).