In the last class, we discussed the generational, cultural, and societal changes that may happen ahead. 
Generally speaking, "change" is expected in generational characteristics, in job market requirements and in technology and its adoption. Looking at generation Z for example, who has access to the internet and technology since day one "all technology all the time".  They spend a lot of their daily time on social media. They are used to "On-demand" "Personalized experience" on different aspects of their life. like using Youtube, Netflix to search for what they want to watch. 
 I agree with Adam, the need for technological skills is a necessity for our students to be able to compete in the future. In fact, this is not just about students but the entire generation.   This is due, in part, to the expected 4th industrial revolution (Industry 4.0) and its adoption of the Internet of Things. (other factors include globalization for example) This wave of industrialization will bring even more data-oriented automation that surpasses that brought by the 3rd industrial revolution.   According to the article, "The fourth industrial revolution" "Some advances are ahead of others. Mobile internet and cloud technology are already impacting the way we work. Artificial intelligence, 3D printing and advanced materials are still in their early stages of use, but the pace of change will be fast" In addition, In the 2020 Future Work Skills "Global connectivity, smart machines, and new media are just some of the drivers reshaping how we think about work, what constitutes work, and the skills we will need to be productive contributors in the future." 
No one can really know the limits of the change that will be caused to our lives.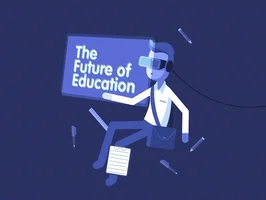 For example,  "65 percent of children entering school today may end up in jobs that have not yet been invented [according to the World Economic Forum the Future of Jobs report" The skills required for such jobs are not known yet, we can make some predictions, but no one knows for sure. This raises a lot of questions about our educational system and how it can keep up with these changes. 
Considering these characteristics and  the 2020 Future Work Skills six drivers of change
Expected Societal Characteristic

Skills required

Rise of smart machines and systems: 

Workplace automation nudges human workers out of rote, repetitive tasks

Sense-Making

Noval and Adaptive Thinking

Social intelligence

Computational world: 

Massive increases in sensors and processing power make the world a programmable system 4- New media ecology: New communication tools require new media literacies beyond text

Computational thinking

Design Mindset

Cognitive load management

Superstructed organizations: 

Social technologies drive new forms of production and value creation

Design Mindset

Cross-cultural competence

New-Media Literacy

Cognitive load management

Virtual Collaboration

New media ecology

Computational thinking

New-Media Literacy

Cognitive load management

Extreme longevity: 

Increasing global lifespans change the nature of careers and learning

New-Media Literacy

globally connected world: 

Increased global interconnectivity puts diversity and adaptability at the center of organizational operations

New-Media Literacy

Virtual Collaboration

Social intelligence

Noval and Adaptive Thinking
Accordingly, educational systems have to change to keep up with these rapid changes (and Transit into Education 4.0).  Educators are on a mission to implement innovative pedagogical approaches to teach their students so they can get the most out of their learning experience.  Some suggestions include: 
From an early age, students must learn to actively engage with the material through critical analysis and fundamental questioning of existing norms and systems.

Creating learning ecosystems that are personalized and self-paced; accessible and inclusive; problem-based and collaborative; and lifelong- and student-driven can help 

Teaching methods that emphasize cultural awareness and diversity

Technology design and programming  
I think teachers are trying their best to keep up with these constant changes. My kids are already using different types of technology tools in class (Seesaw, Google Classroom, and Kahoot) are some examples. Many of the assignments that my high school daughter gets are project- and research-based requiring lots of problems solving and critical thinking skills conducted by a group of students.
However, there are some cases when teachers aren't capable to keep up with the students'  interests and characteristics. They still rely on passive learning and memorization. Especially, when there is a big generational gap. To be honest this doesn't happen often. I think the fact that millennial is starting to get in the workforce is minimizing this gap already.  However, the change has to happen in a faster base in the future as "Change won't wait for us". and, as Krysta C mentioned: "If education can't keep up, then just like every other organization, it won't survive"