This week we had Verena Roberts as a guest speaker. Verena's presentation about OEP was fascinating and intriguing for me. I chose to talk about OEP because I feel it will be kind of a continued discussed from my last post on OER.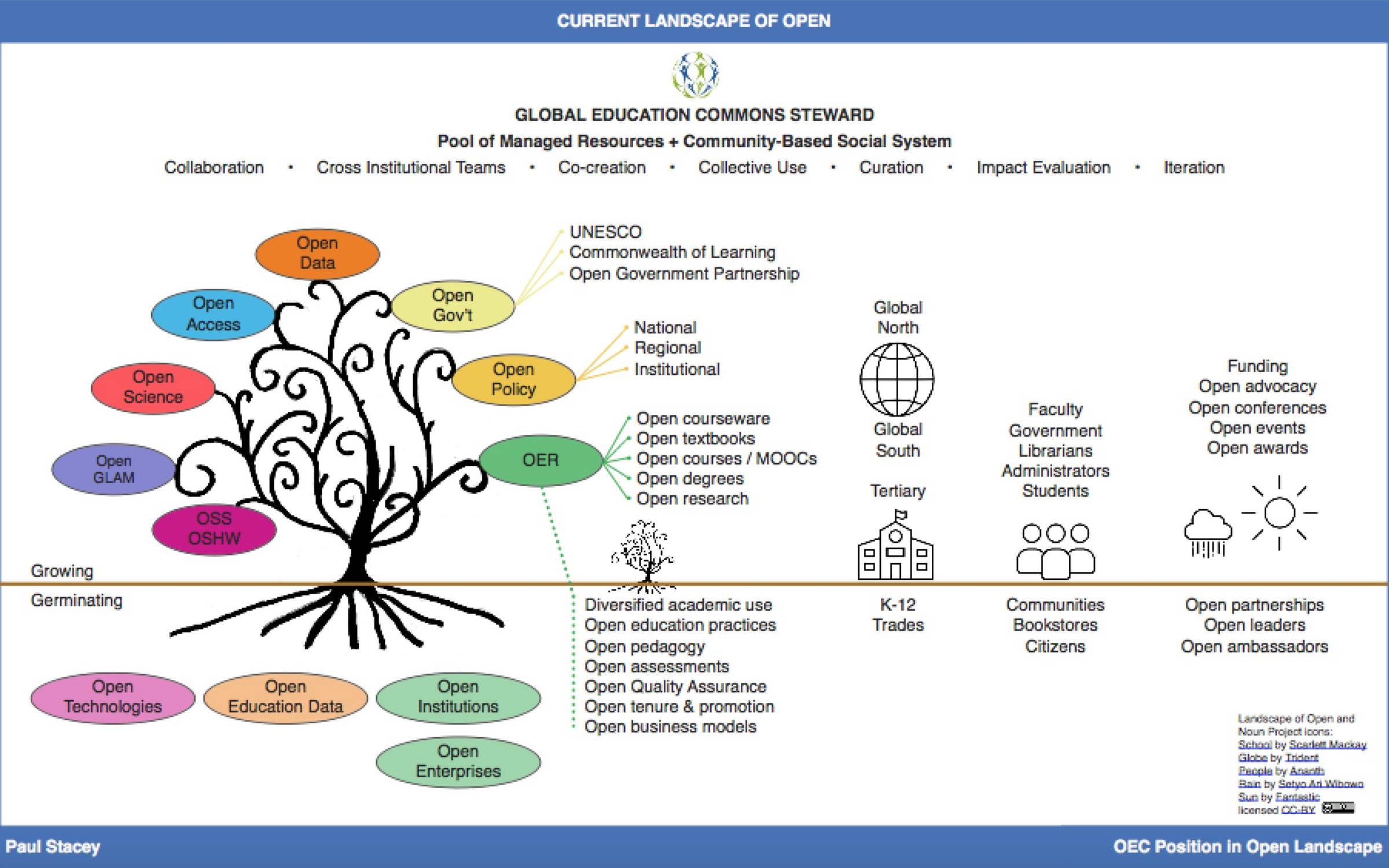 According to Wikipedia "Open educational practices (OEP) is the use of Open Educational Resources for teaching and learning in order to innovate the learning process (Ehlers 2010). They are represented in teaching techniques that draw upon open technologies and high-quality open educational resources (OER) in order to facilitate collaborative and flexible learning.[1][2] They may involve students participating in online, peer production communities [3] within activities intended to support learning [4] or more broadly, any context where access to educational opportunity through freely available online content and services is the norm."
I see OEP as a fascinating and an important approach that matches the current trend in education specifically, where all people have open access to voluminous content through  internet tools and social media.   I see more connection and interaction between  participants (learners and facilitators) that would lead to more engagement and sharing of knowledge, resources, and work experiences. ECI 831 is a perfect example of OEP where all the students are connected and are able to share resources openly and engage in fruitful discussions on various topics.
Starting with the benefits of OEP, as mentioned in the 7 Things you should know about… Open Education: Practices, "OEP help faculty develop more agency and autonomy by providing new tools and a broader framework to help them revise, remix, localize, and contextualize pedagogy and curricular re- sources. OEP also give agency to students by giving them more control over the structure, content, and outcomes of their learning and by creating opportunities for them to create learning materials."
Providing all these capabilities to learners and educators would help achieve many of their objectives.    OEP participants would be able to draw on their professional experiences in discussions, therefore, keeping learners updated on new technologies, processes, techniques, topics, material, etc, in addition to allowing  learners to make more solid connections between theory and the practical world. OEP  also provide participants with networking opportunities with professionals in the field. I believe OEP help change an instructors' way of thinking about their pedagogy and content. This explained in the following video.
OEP can be fundamental in specific situations. I asked an instructor to provide an example of how OEP can be best applied from his perspective, his answer was:  Let's take for example developing a new course on "climate change for policy makers."  Such courses would involve content that spans multiple disciplines such as environmental science, chemistry, engineering, economics and social sciences.   For example, to the transportation sector is known to be a major contributor to pollution. Although transportation is mostly an engineering discipline, it has a direct impact on economy and societal dynamics.   It would be difficult for a single instructor to have enough background in each of these various fields. OEP produced by a community of experts can be enabling in such examples.
However, there are some risks associated with OEP as mentioned in Wikipedia, such as the lack of certainty about its pedagogical value, which could be attributed due to the possible subjectivity of some of the participants. Another concern is related to the overuse of social media and the potential risk of learners using low-quality information sources (as covered in my previous post on OER.) OEP also requires more discussions and engagement from student, the overwhelming majority of whom have very limited time Student personalities may also play a factor, for example, introverted students or students with limited social media knowledge would be at a disadvantage with OEP. Loreli Thibault touched based on a very important risk when she said "Another issue that was voiced in our class group discussion, related to the primary school system, was lack of age-appropriate internet resources, especially for the younger students, such as in grade one. Additionally, teachers are not given adequate prep time to find appropriate resources."
I believe that integrating OEP into the classroom or into the educational system in general doesn't have to start by completely revamping our way of teaching.   In some examples, OEP is almost a must as it enables covering the content of today's complex topics (e.g. climate change for policy makers). OEP allows educators to cover multi-disciplinary topics efficiently, but this may have ramifications on students. I believe small starting steps can have a significant impact on our students, educators and open pedagogy. Further steps can be taken as the pros and cons are well understood by learners and educators.